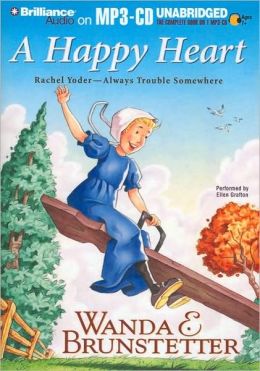 RACHEL YODER!!
Series: Rachel Yoder – Always Trouble Somewhere
Author(s): Wanda E. Brunstetter
Target Audience: Girls, but boys could enjoy
About The Main Characters:
What I Think About This Book:
Another GREAT book filled to the rim with humor, trouble, and fun. Just like the other books humor is normally the trouble and just joins in!
Rachel is a sour puss during most of the book because she has to get new glasses and Brian (Audra's brother) and Orlie are making fun of her by saying the glasses make her look like she has four eyes and calling her snake eyes. But in the end Rachel has another happy heart because of her teacher, Elizabeth.
Bad Case of the Grumpies!
With the arrival of spring come happiness and fun. Not so for
ten-year-old Rachel Yoder, who springs into nonstop trouble
that turns her from a smiling, laughing girl into a sour-faced
grouch. Extra chores, a trip to the eye doctor's office for glasses,
and a little white lie makes things go from bad to worse for
Rachel and her family. Will Rachel ever learnt he secret to true
This book series is still recommended for elementary girls, though older girls should enjoy these too.