The 2nd Rachel Yoder book! Hope you enjoy this series as much as I do!
Series: Rachel Yoder-Always Trouble Somewhere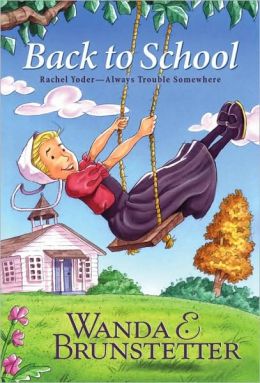 Author(s): Wanda E. Brunstetter
Target Audience: Mostly girls, but I think boys would enjoy this.
About the Main Characters:
Rachel: The sweet, fun, humorous, trouble-some 10 year old. Trouble finds her before she finds it. Always.
Mary: Rachel's best friend and favorite cousin. Mary will always follow Rachel, but never ends up in trouble.
Jacob: Rachel's bothersome brother who is always teasing. Jacob never gets in much trouble.
Orlie Troyer: Orlie is the new kid at school who is rotten. From his freckled face to his feet. He wants to humiliate Rachel any every way, or does he?
Henry: Rachel's brother who teases but nowhere near as much as Jacob does.
Esther: Esther is Rachel's only sister who is 19, and is engaged (but get's married in this book
J
).
Rudy King: Esther's fiancé/husband.
Elizabeth Miller: Elizabeth is the Amish one-room school house teacher. She is very nice and is loved by all.
Mom: Rachel's stern but loving mother.
Pap: Rachel's father who is fun, loving, and just as stern as Rachel's mother.
Grandpa Schrock: Rachel's grandfather from her mother's side who is always fun.
Cuddles: Rachel's fun, active lil' kitten (sometimes where trouble starts
J
)
Tom: Sometimes referred to 'Old Tom' is the Yoder's carriage horse. A kind, loving ole' thing.
What I think About This Book:
This book is just as great as the first one. Plus it contains the same humor, trouble, and fun.
The humor is even better in this book I think because this book has a boy named Orlie who is just as much trouble as Rachel is, maybe even more!
Rachel's back in school!…
And that's where trouble finds her once again! Except this
time, trouble has a freckled face and an unruly cowlick. His
name is Orlie, and he seems determined to humiliate this
ten-year-old Amish girl at every turn. Can any good
come out of Rachel and Orlie's endless antics? Join Rachel as
she learns life lessons about love and forgiveness in the rolling
hills of Lancaster County, Pennsylvania.
I would still recommend this for elementary reading level. I still enjoy the book series and I hope I don't ever STOP enjoying them!