Some of you have probably heard of Left Behind (the adult version). Me? I had never heard of it 'til my mom made me start reading it. I fell in love with it. Ok, wait; let me get this straight, I read the kid version. But they are awesome. If you don't know what Left Behind is it's a series of books about what two pastors' think will happen when Jesus comes back after they have studied Revelation. Right now I'm in the 15th book, but I have started reading the series again so I can get updated. Which is a perfect time!! BTW, I am still reading through the book series, I'm not stopping.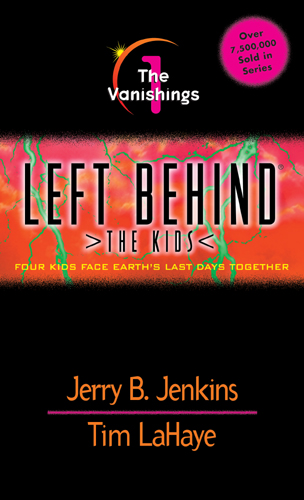 Series: Left Behind >The Kids<
Authors: Jerry B. Jenkins & Tim LaHaye
What I think about this book:
It's a very interesting book. But the kids are very stubborn. Judd yells at his parents and sibs. Vikki drinks and smokes (only for a second in the book
J
). Lionel is a liar, and to me seems kinda' proud about being a rich black kid. And then there's Ryan. Ryan won't listen to his best friend, Raymie.
Out of all the books that I have read this one is the least scary.
The kids could do some work on listening. But they all seem to know what happened when they find the clothing lying around.
Jesus has come for his followers.
The ones that did disappear are more than lucky could ever mean to be before Jesus.
Ryan is not from a Christian family. Judd and Lionel's families that have been Christians forever and that were very Christ like. Vikki's parents we're drinkers and smokers. Her mom was a Christian, that's how she grew up, but didn't live or do anything for Christ. Her dad said it was mumbo jumbo.
Judd's mom, dad, little sister, and little brother had all gone to church loved it etc. Judd used to enjoy it, but then he thought he had grown out of it. He thought loving Jesus and God were for little kids and old ladies. Nobody wanted to dress like he did, listen to his kind of music, or have a little fun. So his family had always been a Christen family, well, besides him.
The Byrne's live in a trailer park where mostly drinkers and poor people live. Some of the people were Christians. Every Friday night, men and women would gather 'round. They would drink, smoke and fight over their wives and girlfriends (it doesn't have any of this happening; it just says this is what they did). But one night, a pastor came and stood on the stage for 5 minutes and told them about accepting Christ. Mr., Mrs., and Jeanni Byrne all did this that night while Vikki had disappeared to go drink and to smoke.
Lionel's mom was a true Christian. She loved the L
ORD
more than anything! So did Lionel's sister, Clarice. She would stay up for a long time reading the Bible and prayin'. Their father loved the L
ORD
as well. Lionel's little brother and sister were Christians too. But Lionel and his Uncle Andre` shared a secret. Neither were Christians. The Washington family was a long line of Christians.
Ryan's parents were not Christians. His friend, Raymie Steele, has a "religious" mother. Who hasn't accepted Christ, but makes them pray before they eat, tell them Bible stories, and makes Raymie pray before going to bed. Then Raymie and his mother start going to a new church. And, BOOM, Raymie and his mother are Christians. Raymie tries to tell Ryan, but Ryan doesn't want to hear about it.
Judd:
Judd was afraid too, but he wasn't puzzled. As the pilot came over the intercom, pleading for people to remain calm, the full realization of what had happened hit Judd. He didn't know how many other people on the plane had any idea, but he sure did. Christ had come as he promised and raptured his church..... He, and most of the passengers on that plane, had been left behind.
Vikki:
And suddenly it hit her. Was it possible? Could it be? Had they been right? Had she been as stubborn and stupid as a person could be? Had she seen the dramatic changes in their lives and still not believed any of the God stuff? Had they gone to heaven and left her behind?
Lionel:
Only for the briefest instant did Lionel wonder if he was dreaming. He knew better. This was real. This was the truth. All doubt and question had disappeared. His family had been raptured as his church, his pastor, and his parents had taught. And he had been left behind.
Ryan:
Was it possible that the people who had believed in Jesus had been taken to heaven, just as Raymie had tried to tell him? He and his parents and Captain Steele had been left behind.
I would totally recommend this book series for youth who don't understand about the rapture. I mean, I have learned a lot about what will happen. I even read all of Revelation to see if all of this was in the Bible. And it pretty much is! So go get it and read it! I just finally got my younger brother to read it. And he loves it!