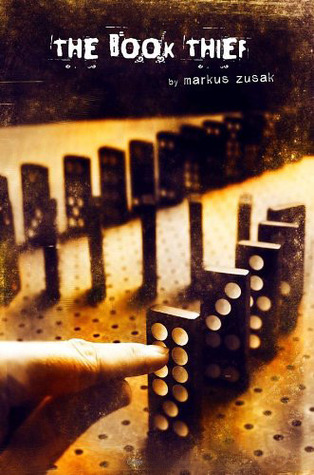 The Book Thief
by
Markus Zusak
My rating:
5 of 5 stars
I have to hand it to Markus Zusak. I have never read anything like
The Book Thief
. Ever.
I won
The Book Thief
in a giveaway held by
[insert title here]
. This is how I was given the opportunity to read this piece of art.
I must say first, that there were a lot of curse words, cuss words, etc. And I got permission from my mom to read it once I found out that there were some. Just wanted to point that out.
Onto the book:
The Book Thief
takes place in Germany on a place called Himmel street. Himmel means heaven.
Liesel comes to that street. She comes and lives with a foster family. Her new Mama and her first Papa.
Papa teaches her to read and write.
And you know what Liesel does? She starts stealing (her first book was before any of this).
As it says on the back of my cover, "Zusak doesn't sugar coat anything". I love that, and it's so true. ;)
Papa, Mama, Rudy, Max, Tommy, Death, and Liesel are the most perfect characters ever.
Death is the POV character--one more thing to make this book outstanding.
I have to say why I marked this book as a rule breaker. I just have to. Just about everything I learned NOT to do while writing, was broken in this book. But it was done pretty expertly. =) Death gave us snippets far into the future. It was as if Zusak used three POVs. First person, second person, and third person.
Oh, and one other thing. I've never, ever, EVER cried over a book.
The Book Thief
was the first one. And I didn't just cry once. I cried five times in five different places.
Oops, I forgot one thing about the book. Max is the best character of all. Max's books are the best ones of all. Max is the best. No one in the book, not even Papa, can compare to Max.
I hope I'm allowed to watch the movie.
What I marked this book:
ya, favorites, nazi, german, 2014 reads, so so so so sad, rule breaker, a must read
View all my reviews