Ok, so yeah, haven't done a book report in forever, right? sorry, but i just finished the best writing book ever! :D it's written by Stephanie Morrill & Jill Williamson (2 awesome people!) ;) And so i totally felt like sharing. I'm also going to add something new to my (abrielle lindsay) book reports. I'm going to put a link to where you can buy it on Amazon. So, let's get this book report going! Whoo!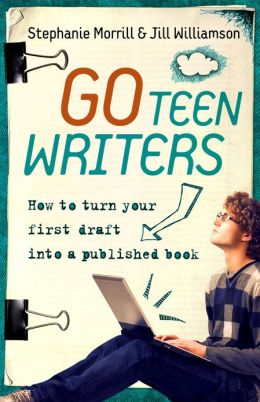 Series: none
Title: Go Teen Writers: How to turn your first draft into a published book
Authors: Stephanie Morrill & Jill Williamson
Age Level: 11+
Stars: 5+++++
Violence: (writing book, NO violence what so ever)
Pages: 308
No main characters
What I think about this book:
It was totally AWESOME!!! I loved it all the way through! I took notes and have tried several of the 'Make it Yours' ideas. I wished it would have continued! It was SUCH a great book!! It helped me so much in my writing journey! :) They give examples from other books, suggest other writing books, and make EVERYTHING understandable! :D
Book Description:
The question we hear most from new writers is, "How do I get published?"
And the answer is: Respect your dream.
Every writer's journey is different, yet as we've reflected on our experiences and those of the writers around us, we've seen time and time again that those who are successful are the ones who had the patience and endurance to stick with this writing thing. They didn't look for shortcuts (at least, not for long), nor did they quit after five, ten, or one hundred rejections.
We can't make the process easy for you, but it's our hope that this book will be a tool you can turn to time and time again when you're thinking, "Okay... what's next?"
Where to buy it:
Go Teen Writers: How to turn your first draft into a published book
Enjoy!
Abrielle Lindsay